sustainability
We're committed to giving back
With great print comes great responsibility. And so we understand the importance of recognising the impact we have within the world of Precision Proco...and the wider world around us.
We're therefore committed to playing an active role in supporting our people, caring for our local communities and protecting this precious planet that we all call home.
Planet

:
Protecting everyone's future

We know there's no 'planet B', so we're continuously working towards driving down our negative impact on the environment and supercharging our positive one.

This means focusing on the areas where we can directly sweep up our Co2e footprint, clean up our approach to waste management and get our green on when it comes to energy usage and power management.

Steps we're proud of…

CO2e Report Analysis - Using third-party, approved tools to track, measure and further reduce our carbon footprint.


Gold Power Initiative - Putting the brakes on wasted energy by switching off machinery and appliances when not in use.


Waste Reduction - Getting picky with our plastic use and making sure good waste isn't wasted through smart recycling/repurposing practises.

People

:
Valued + Cared for = Happy

We're only as good as our people, and so we're building a company culture that's supportive and celebratory of all employees whilst providing a safe, fair and caring working environment.

Central to achieving this is our People Program, which ensures every team member has opportunities to develop personally and professionally within a positive, understanding and empowering company setting.

Steps we're proud of…

Workplace Online Portal - Giving all employees easy access to business updates and wellbeing support tools, plus space to share their success stories.


Employee Survey - Inviting our teams to have their say on the way things are done around here so we can act on feedback and further boost job satisfaction.


PPG Heroes - Recognising and rewarding those who go above and beyond in reflecting our values, enriching our culture and contributing to our overall success.

Communities & Customers

:
Altogether Now

We all know there's great strength in numbers, so we positively promote our teams getting involved in valuable community projects and charitable activities that will benefit the planet and those we share it with.

Meanwhile, in terms of our company communities, we want to work with partners and suppliers who share our sustainability-driven vision and introduce our customers to greener ways of getting the job done!

Steps we're proud of…

Group Communities Plan - Encouraging employees to engage with our sites' local communities to help improve the environment and contribute towards impactful initiatives.


Charity Fundraising & Activity - Supporting nearby and national good causes - chosen by our employees - via ongoing fundraising and volunteering activity.


Trade Association & Partners Analysis - Introducing code of conduct and supplier assessments to ensure those we work alongside share our planet-positive approach.

Governance

: Beyond Box-Ticking

Proving that we work safely, responsibly and efficiently is a top priority, so obtaining relevant accreditations is much more than a box-ticking exercise.

It shows that we act on what we say, we do things by the book, and we make sustainable initiatives and actions stick by embedding them across all our divisions, locations and products.

Steps we're proud of…

Beneficial Accreditations - Prioritising gaining relevant accreditations that align with our initiatives, values and outputs.


Accurate Reporting - Continually assessing and improving how we measure, track and report our progress across all business areas so we're held to account.


Strong Structure - Putting the right people in the right place to implement ideas, act on our responsibilities and make great things happen.
Our commitment to sustainability and giving back isn't about reaching a finish line or final destination but pursuing continuous change. This way, we can ensure we're doing our best to look after our people, communities and the planet now and always.
We're proud of the steps we've taken so far, and we're passionate about the many more to come. From those small but mighty actions that add up to lots of quick wins to those robust, long-term initiatives that will make a colossal difference to the industry and the environment.
Where we're going next…
Achieving Carbon Balanced Status

Improving Multi-Site Communication

Embracing ESG-Led Decision Making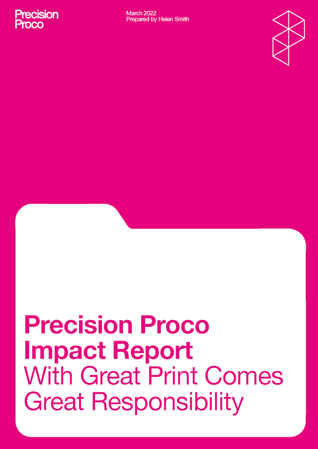 Improving our impact on our people, charities, community, and the planet is far-reaching. Driven by our Environmental, Social and Governance (ESG) committee with representatives from across the business, we're focused on putting ESG at the heart of our decision-making.
So, in this, our first Impact Report, you'll find further details of the changes we're making to our business to support reducing our negative impact and increasing our positive one.
It spotlights our ESG activity over the last 12 months, as well as mapping out our plans and projects for 2023/24, and summarises our longer-term ambitions for navigating a greater, greener future.
Request

Our Impact Report Here