Print production
We think different to print different
We utilise our pioneering in-house print capabilities to deliver relevant, reactive and personalised campaigns whilst steering clear of no-room-to-swing-a-cat crowded marcomms channels.
Technology

powers everything
We're proud of our glowing reputation for high-quality print experiences. We shine brighter than most due to our exceptional customer service, commercial expertise and the very latest production technology, all delivered by our super enthusiastic squad of print and tech fans. But what really lights us up is helping you think of print in entirely new ways.
As a modern tech company that prints, we're built on different foundations than others. It used to be the size of your premises and the number of presses you had that mattered most... well today that's a given.
Now it's technology that's king.... and we boast amongst the best in the biz. Keeping up with the latest advances is what opens exciting new markets and what creates game-changing growth.
In choosing to partner with us, you'll be collaborating with trailblazers leading those industry innovations. So, as tech-driven modern print gets more advanced, so too will your business!
With us in your corner, you can print what you want, when your audience wants it AND make it personal!
We combine specialist workflows, API integration, bespoke applications and automation to make it simple to connect, produce and deliver your products and campaigns.
It's this state-of-the-art tech, coupled with our digital print production capabilities, that allows for a more responsive approach to your offline marketing communications. So they can be produced and delivered 'on-demand' when they're needed in ones and twos, rather than hundreds or thousands.
Add into the mix our ability to deliver geeky data analysis, and the possibilities for producing relevant, personalised pieces at precisely the right time are endless.
Be bold, be beautiful, be personal
Digital

printing
Powered by the latest HP digital print technology, our fleet of presses make even the most complex data-driven projects a doddle.
Precision Proco is home to 15 HP Indigo digital presses, housed across two sites as well as 4 Ricoh digital presses providing all the personalisation magic you could need.
We've got the tech to support personalisation across multiple formats on up to 400gsm substrate, plus our Indigo 7800 can run HP electro inks for when that extra special colour is required.
size and scale
UK's largest HP Indigo house
Outstanding image quality
Unrivalled customisation capabilities
HP Indigo 100K
6,000 B2 sheets per hour
non-stop colour calibration
looks and feels like offset printing
In 24 hours...
we can print 1,350,000
variable A4 sheets,
That's enough to wrap
the shard 1.49 times!
Speed, Performance, Personalisation
inkjet

printing
Just when you thought it couldn't get any better, in terms of personalised, dynamic print our HP T240 high-speed inkjet press means you no longer need to pick between volume, speed, quality and personalisation... it can do it all!
Capable of producing up to 62 million letter-sized impressions per month, no direct mail or door drop mailing is too large for this imPRESSive bit of kit!
HP T240 INKJET
High-speed inkjet press
Outstanding image quality
In line perforation for vouchers and tear off sections
Unlimited personalisation options
Speed & Efficiency
152 metres of print produced per minute
2.53 metres per second!
5.65 mile per hour!
In 24 hours...
we can print 1,440,000 A4 duplex sheets
265 miles of A4 sheets end to end
That's the distance from London to Hartlepool!
as big as you can dream, as bold as you want to be
Large

format
The best print makes a statement. Like art, it turns heads, gets people talking. Above all else, it jumps out and grabs customers' attention – something which isn't easy to do in a world where we're bombarded daily with advertising and marketing messages.
But we know all about standing out.
We can print to a size, scale and quality that effortlessly delivers the WOW factor. Small format, large format, in-store or outdoor, our POS and signage solutions will blow your audience away, while at the same time, keep 'em coming back for more!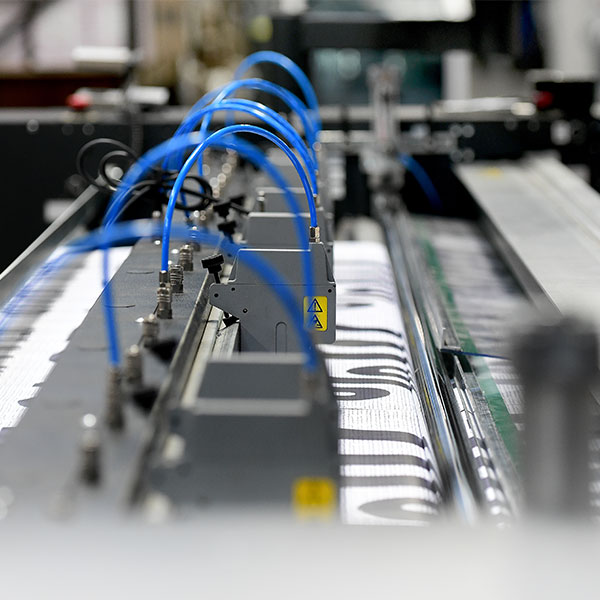 Agfa Tauro H2500i
Long-lasting outdoor durable inks
Print graphics as big as you like
Quick turnarounds
Rigid and flexible media
Agfa RTR 3200i
High Productivity
Superior quality printing
UV LED - save time, money, and cost
High Colour Vibrancy
In 24 hours...
two impala presses
print on 840 metres squared
of product, equivalent to
72 parking spaces
Traditional print for the future
litho

printing
Despite our diversification into digital and inkjet production, litho print is still very dear to our hearts. Combining quality and speed, it can be used for single-run mailing, brochures, flyers and postcards, producing a whole manner of highly attractive marketing and marcomms literature.
With five litho presses across two of our major production facilities, we have the firepower to deliver large volumes, as well as high quality on time, every time. Our fleet consists of four Ryobi RMGT presses and one Heidelburg press.
The RGMT presses are LED UV presses using hard drying inks. This not only gives a brighter, more vibrant colour, (ideal for when your hues need to pop) but also the speed of drying means we can get your printed sheets into finishing at mega lightning speed.
Then, when a flawless finish is required, we have our Heidelberg press which is used for fine art and exceptional quality, high-end print. So, whatever your requirement, we have a litho press that's up to the job!
Ryobi Tech
LED-UV curing, near-instant drying of the sheet
All SRA1 presses
Inline coating system adds value to printed work
Heidelberg
Specialises in fine art print
Lots of highly finished products and short runs
Inline perforation and die-cutting
in 24 hours...
we can print
8,560,000 A4 sheets,
equivalent to
85 football pitches
Print is just the beginning...
Print
Finishing
Nothing creates a WOW moment like adding a beautiful finish to your printed piece... and we have all the kit and kaboodle to make it happen!
We can offer a range of finishes to bring your printed pieces to life.
From SPOT UV to foil blocking we can add that 'extra something' with ease. Furthermore, our Scodix allows us to bring together the personal touches and fine finishes for personalised pieces with pizzazz.
Oh, and did we mention we have endless skills in functional print finishing too? We can fold, stitch, bind, sew and cut a whole manner of items, plus we can enclose them, into envelopes at high speed and mail on your behalf.
Just consider us your end-to-end direct mail solution... with added style!
Functional Finishing
Die-cutting, folding, creasing
Perfect Binding
Decorative Finishing
Scodix foiling for bespoke projects
Lamination Gloss and matte
Spot UV
Enclosing
High-speed bowe enclosing lines
Read and print technology
Camera matching for accuracy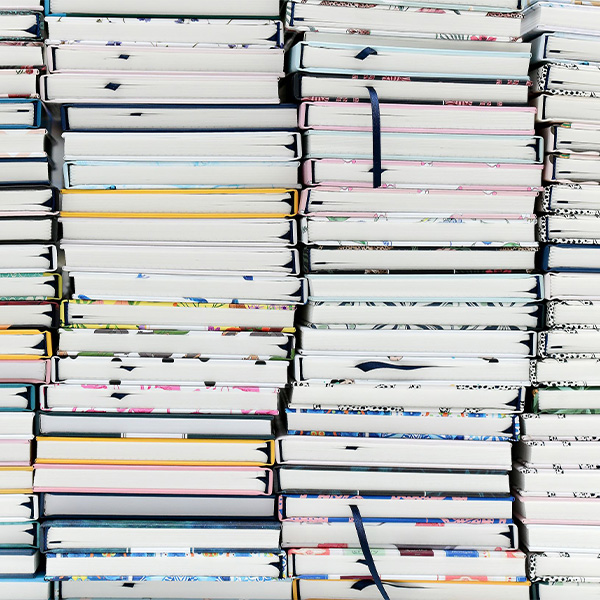 Traditional Format, Cutting Edge Technology
Book

Super Centre
The expert team at our Book Super Centre can turn your literature musings into a beautiful publication. From simple brochures to sophisticated bound books, we have the technology and professional wisdom needed to create captivating results.
Whether your aim is to inform, educate or entertain, you'll likely want your book to stand out on the shelf, and we can make it happen! Hardcover or softcover, lay flat or case bound, with a dust jacket or without, we'll ensure it makes an impactful first impression. We can do any size and number of pages, with embellishment options available from Scodix foiling, head and tail bands, raised varnish and lamination, to mention but a few.
Choice
Casebound, PUR, Stitched
Digital, Litho or Inkjet page production
In a Week
we can produce enough casebound books to cover a full size football pitch
In 15 Hours...
We can produce A stack of PUR books as tall as the Shard
That's 310 metres of books
Finishing the Job
Book
Binding
We wouldn't be a Book Super Centre if we didn't have state-of-the-art binding facilities, now would we?!
Our bookbinding specialities include PUR, lay flat, case binding, book sewing and perfect binding.
And the story doesn't stop there! We've got the only machine in the UK to combine folded endpapers with pre-glued lining material. This means the resulting product can be fed like a cover in a conventional perfect binder, thus obtaining a book block ready for hard cover casing-in. So, it's ideal for photo books, albums and conventional books in small runs.
Formats & Finishes
Casebound, Layflat, PUR, Saddle Stitch,
Wiro Bound Stitched
Hardcover & Softcover options
All The Kit
Muller Martine Pantera PUR Binding Line
Muller Martini EMP 513 Casing Line
Kolbus DA 270 Casemaker
Aster Sewing Machine
In 24 Hours....
We can produce 42,000 casebound books
and120,000 PUR books
Let's chat
great minds print alike...
if you think like we do get in touch